Potent Gardens Organic Fruit and Vegetable Supplement in Tablet Form
Potent Gardens Organic Fruit and Vegetable Supplement in Tablet Form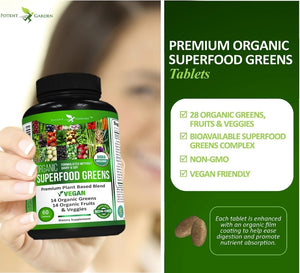 🌱 Elevate Your Nutrition with Potent Gardens: The Ultimate Fruit and Vegetable Supplement in Tablet Form
Are you ready to embark on a journey towards optimal health and vitality? Look no further than Potent Gardens' 28 Organic Greens Fruits & Vegetables Supplement. Packed with the goodness of nature's finest offerings, this innovative tablet form brings you the benefits of fruit and vegetable supplements in a convenient, easy-to-use package.
🍏 A Fusion of Nature's Bounty in Every Tablet
Unlock the true potential of your well-being with our meticulously crafted blend of 28 organic greens, fruits, and vegetables. Each tablet is a testament to nature's diversity, featuring a wide range of nutrient-dense ingredients carefully selected to support your body's needs.
🥦 Vegetable Supplements for Adults: Nourishment Beyond Compare
Potent Gardens understands the unique nutritional needs of adults, and our Vegetable Supplements for Adults cater to those needs precisely. Bursting with vitamins, minerals, antioxidants, and phytonutrients, our formula provides comprehensive support for overall health, immune function, and energy levels.
🌿 The Potent Advantage: What Sets Us Apart
Organic Excellence: We source only the highest-quality organic ingredients, ensuring that you receive the purest and most potent form of nutrition available.

Comprehensive Nutrient Profile: Our 28-ingredient blend encompasses a spectrum of colors, flavors, and nutrients, giving you a well-rounded dose of nature's goodness.

Tablet Convenience: Say goodbye to the hassle of juicing or preparing multiple servings of fruits and vegetables. Our tablet form is a convenient way to supercharge your nutrition on the go.

Scientifically Formulated: Our supplement is developed by experts who understand the science behind optimal nutrition, ensuring that you get the most out of every tablet.

Uncompromising Quality: Each batch undergoes rigorous testing to guarantee potency, purity, and safety, so you can trust that you're making a smart investment in your health.
Experience the Transformation
Embark on a journey towards enhanced vitality, radiant health, and a more energetic you. Potent Gardens' 28 Organic Greens Fruits & Vegetables Supplement is your passport to nourishment like never before. Elevate your well-being and embrace the power of nature in every tablet. Make the choice to nourish your body with the best – choose Potent Gardens today.